What is Salt Lake City Known For?
The Post Explores the Best of Salt Lake City.
SALT LAKE CITY HOTELS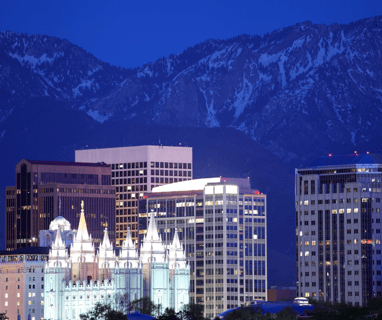 What is Salt Lake City Known For?
Salt Lake City, the capital of the state of Utah, is a vibrant and culturally rich city nestled against the picturesque backdrop of the Wasatch Mountains. Known for its unique history, stunning natural beauty, and thriving arts scene, Salt Lake City offers visitors a diverse range of attractions and experiences. In this article, we will explore what Salt Lake City is known for and why it has become a popular destination for tourists and locals.
A Brief Overview of Salt Lake City
Salt Lake City was founded in 1847 by a group of Mormon pioneers led by Brigham Young. The city was established as the headquarters of The Church of Jesus Christ of Latter-day Saints (LDS Church) and remains an important religious center today. The influence of the LDS Church is deeply rooted in the city's history, architecture, and culture.
Top Places To Visit
Our journey begins at the Utah State Capitol, a historic landmark that houses exhibits and offers tours. This state government office is not just for bureaucrats and politicians - it is an iconic piece of architecture that attracts tourists from all over the world. With its magnificent dome and stunning interior, a visit to the Utah State Capitol is a must for any traveler.
Next, we head to the City Creek Center, a refined retail complex boasting over 100 stores. Whether you're a shopaholic looking for big-name brands or just want to window shop, this mall will keep you entertained for hours.
For LDS Church members and history buffs alike, a trip to Salt Lake City is incomplete without visiting the Salt Lake Utah Temple. However, as of now, this historic landmark is temporarily closed. But don't fret, there's a plan to reopen the temple in 2025. Be sure to check their website for the latest updates.
Experience history like never before at 'This Is The Place' Heritage Park, a living-history park complete with a Mormon monument. It's an excellent place to immerse yourself in the rich culture and history of Utah's early settlers.
A trip to Salt Lake City isn't complete without a visit to Temple Square. As one of the most popular tourist destinations in Utah, it's home to beautiful gardens, historic buildings, and the majestic Salt Lake Temple. Visit the Temple Square website for more information.
The next stop is the Eagle Gate Monument, an eagle-topped historical landmark that's worth a visit. This unique monument is one of the symbols of the city and has a story to tell.
Before exploring the rest of Salt Lake City, let's acknowledge its gatekeeper – the Salt Lake City International Airport. With free WiFi and filled with stunning art, it's more than just an airport.
Looking for more information about attractions, restaurants, or events? Visit Salt Lake, the tourist information center has got you covered. Here, you'll find brochures, maps, and helpful staff ready to answer all your questions.
Next, immerse yourself in the history of Utah at the Pioneer Memorial Museum. Housed in a Grecian mansion, it exhibits various artifacts that narrate the story of Utah's early settlers.
Accommodation in Salt Lake City can't get grander than this. The Grand America Hotel, a 5-star hotel, offers elegant rooms, a spa, and American dining. It's one of many great SLC Hotels you can consider during your stay.
When it comes to food, Salt Lake City doesn't disappoint. Salt Stone is an easygoing bistro known for its classic American dishes. Whether you're dining in or taking out, you're in for a delicious meal.
If you're looking for more travel advice, the Utah Office of Tourism is your best bet. From brochures to maps, they have everything you need to explore Utah.
Another unique monument in Salt Lake City is the Seagull Monument. Situated in Temple Square, this monument is a testament to the Miracle of the Gulls, a significant event in LDS Church history.
If you're looking for good dining options, Bambara Salt Lake City offers a new American bistro with seasonal menus. They've got you covered from dine-in to takeout and even delivery.
Salt Lake City is a history, culture, and culinary delights treasure trove. So what are you waiting for? Pack your bags and start planning your trip to this city gem today. If you're looking for places to stay, check out our comprehensive Salt Lake City Hotels list. Happy travels!
The Great Salt Lake
One of the most famous landmarks in Salt Lake City is the Great Salt Lake, after which the city is named. The Great Salt Lake is the largest saltwater lake in the Western Hemisphere and is known for its high salt content, which allows swimmers to float on the surface easily. The lake attracts visitors from around the world who come to marvel at its unique ecosystem and enjoy recreational activities such as boating, fishing, and birdwatching.
Outdoor Recreation and Skiing
Salt Lake City is a paradise for outdoor enthusiasts, offering yearly recreational activities. The city is surrounded by breathtaking natural beauty, including the Wasatch Mountains, which provide hiking, mountain biking, and rock climbing opportunities. During winter, Salt Lake City is renowned for its world-class ski resorts, including Snowbird, Alta, Solitude, and Park City Mountain Resort. These resorts offer incredible slopes and powdery snow, attracting skiers and snowboarders from around the globe.
More About Temple Square
Temple Square is Salt Lake City's spiritual heart and the LDS Church's headquarters. This iconic 10-acre complex is home to the Salt Lake Temple, considered one of the most sacred buildings in the LDS faith. Visitors can explore the beautifully landscaped grounds, visit the visitor centers, and take guided tours to learn about the history and beliefs of the LDS Church. Temple Square's annual Christmas lights display is enchanting and draws thousands of visitors each year.
Cultural and Artistic Heritage
Salt Lake City boasts a vibrant arts scene and is known for its cultural offerings. The city is home to several world-class performing arts organizations, including the Utah Symphony, Ballet West, and the Utah Opera. The Eccles Theater, a state-of-the-art performance venue, hosts a variety of Broadway shows, concerts, and other live performances throughout the year. The Utah Museum of Fine Arts and the Natural History Museum of Utah are also worth a visit for those interested in art, history, and science.
Olympic Legacy
Salt Lake City hosted the Winter Olympic Games in 2002, leaving behind a lasting Olympic legacy. Visitors can explore Olympic venues such as the Utah Olympic Park, where they can watch thrilling ski jumping and bobsled demonstrations. The Olympic Cauldron Park, located in downtown Salt Lake City, houses the cauldron lit during the Games and serves as a reminder of the city's Olympic heritage.
Vibrant Downtown and Shopping
Downtown Salt Lake City offers a lively and pedestrian-friendly environment with a mix of historic and modern architecture. The city's Main Street is lined with shops, restaurants, and galleries, making it a popular destination for shopping and dining. City Creek Center, a premier shopping destination, features a unique retractable roof and a creek that runs through the mall, adding to its charm.
Culinary Scene
Salt Lake City has recently developed a thriving culinary scene, with a wide range of restaurants offering diverse cuisines. The city has embraced farm-to-table dining, with many restaurants sourcing ingredients locally to create fresh and flavorful dishes. Visitors can indulge in everything from traditional American fare to international cuisines, including Mexican, Italian, Asian, and more. The downtown area is particularly known for its culinary offerings, with many dining options to suit every taste and budget.
Religious Heritage
As the headquarters of the LDS Church, Salt Lake City holds significant religious importance for members of the faith. The city is home to numerous historic sites and landmarks of great importance to the LDS community. In addition to Temple Square, visitors can explore the Beehive House, the former residence of Brigham Young, and the Family History Library, the largest genealogical library in the world. These sites provide insights into the history and beliefs of the LDS Church, making Salt Lake City a pilgrimage destination for many.
Annual Events and Festivals
Salt Lake City hosts various annual events and festivals that showcase the city's vibrant culture and community spirit. The Utah Arts Festival in downtown Salt Lake City celebrates the visual and performing arts with live music, art exhibits, and culinary delights. The Utah State Fair is another popular event that attracts thousands of visitors with its carnival rides, live entertainment, and agricultural shows. The Sundance Film Festival, held in nearby Park City, showcases independent films worldwide and draws film enthusiasts and celebrities alike.
Conclusion
Salt Lake City is known for its unique blend of natural beauty, religious heritage, cultural offerings, and outdoor recreational opportunities. Whether you're exploring the Great Salt Lake, immersing yourself in the history and architecture of Temple Square, or enjoying the vibrant arts scene, Salt Lake City offers a memorable experience for visitors. With its welcoming atmosphere, stunning landscapes, and diverse attractions, it's no wonder that Salt Lake City has become a popular destination for travelers seeking a mix of adventure, culture, and spirituality.
For more information about Salt Lake City and to plan your visit, please check out the following resources:
By exploring the rich history, natural wonders, artistic offerings, and cultural heritage of Salt Lake City, visitors can truly appreciate what the city is known for. Whether you're seeking outdoor adventures in the surrounding mountains, spiritual experiences at Temple Square, or immersing yourself in the vibrant arts and culinary scene, Salt Lake City offers a memorable and enriching experience for all who visit.