Exploring the Heart of Utah with "60 Hikes Within 60 Miles: Salt Lake City"
By Greg Witt, Illustrated, June 11, 2019
For outdoor enthusiasts, seasoned trailblazers, or those just stepping into the world of hiking, there's no greater joy than finding a resource that combines adventure, exploration, and a deep connection with nature. This is where Greg Witt's 60 Hikes Within 60 Miles: Salt Lake City shines. Whether you call Salt Lake City home or are just passing through, this book delivers an array of unforgettable outdoor experiences. And for this review, we lace up our hiking boots and step onto the trails of Witt's recommended hikes.
The Book's Structure
The guide, illustrated with full-color images, is intuitively organized into 60 chapters, each one dedicated to a specific hike. At the beginning of each chapter, you're presented with key details about the hike—distance, difficulty, scenery, traffic, hiking time, and more—captured in an easy-to-grasp layout.
Every trail review comes complete with accurate GPS-based trail maps and elevation profiles, ensuring you have a clear understanding of the terrain before you even set foot on the trail. The detailed directions and descriptive narrative feel as though Witt himself is by your side, guiding you through each turn and offering intriguing tidbits about the surroundings. This attention to detail makes the book not only a reliable guide but also an engaging read.
The Hiking Experience
What sets this book apart is its scope and diversity. Salt Lake City is nestled amidst a rugged and beautiful landscape, and Witt has done a fantastic job capturing the variety this region offers.
Delve into the heart of the High Uintas Wilderness with its awe-inspiring peaks or the deep caverns of the Timpanogos Cave National Monument. Traverse the Mormon Pioneer National Historic Trail, retracing the footsteps of Utah's early settlers. Wander amidst the brilliant wildflowers of Little Cottonwood Canyon or spot a big game at Big Cottonwood Canyon. Whether you crave the serenity of secluded paths or prefer more traveled trails, 60 Hikes Within 60 Miles: Salt Lake City offers something for every hiker.
Standout Features
Throughout the book, Witt's passion for Salt Lake City's trails is contagious. He doesn't just present factual information about the hikes; he shares personal anecdotes and historical insights that breathe life into each trail. You're not just learning about the trails but connecting with them.
The author also offers valuable tips on nearby activities, broadening the scope of your adventure. Did you finish your hike early? You might find a local spot to enjoy a hearty lunch, or a nearby landmark worth exploring.
One of the highlights of the book is its inclusivity. The selection of trails ranges from easy strolls suitable for families and beginners to challenging treks for seasoned adventurers. Everyone can find a trail that suits their capabilities and mood.
Conclusion
60 Hikes Within 60 Miles: Salt Lake City is not just a hiking guide—it's an invitation to explore, appreciate, and fall in love with the stunning landscapes of Salt Lake City and its surroundings. Witt manages to capture the soul of this region, encouraging readers to see it not only as a hiking destination, but as a place rich in natural beauty and historical significance.
Even if you've hiked the Salt Lake City area before, this book is bound to introduce you to hidden gems that you've overlooked. And if you're new to the region, there's no better way to discover the diversity and charm of its trails.
Whether you're a resident looking to explore new terrains, or a visitor seeking memorable outdoor experiences, 60 Hikes Within 60 Miles: Salt Lake City is an invaluable companion. It allows you to plan your hikes effectively, maximize your outdoor time, and deepen your connection with nature. So, grab your copy, pack your gear, and let Greg Witt guide you through the vibrant landscapes that lie just beyond your doorstep.
A Journey Through the Heart of Utah: Review of "100 Things to Do in Salt Lake City Before You Die"
2nd Edition, by Jeremy Pugh
Salt Lake City is a treasure trove of unique experiences for adventure seekers, culture enthusiasts, and curious travelers. And there's no better way to delve into its many offerings than with Jeremy Pugh's comprehensive guide, 100 Things to Do in Salt Lake City Before You Die. This lively, well-crafted book, now in its second edition, is a window into the wonders of Salt Lake City and its surroundings.
Amazon has the fastest book shipping; get this book here!
The Layout of the Book
100 Things to Do in Salt Lake City Before You Die is essentially a bucket list for any Salt Lake City visitor or resident. The book is neatly organized into sections, each filled with diverse experiences that cater to different tastes and preferences. From historical landmarks to outdoor adventures, culinary delights to cultural experiences, the book have you covered.
What makes this guide highly user-friendly is its clear and concise presentation. Each activity is described in detail, with tips and insights that give readers a sense of what to expect. The descriptions are comprehensive yet not overwhelming, making it easy to plan your adventures.
The Salt Lake City Experience
The richness of Salt Lake City is stunningly captured in this book. Pugh brilliantly highlights the city's unique fusion of frontier history, cultural traditions, and natural beauty. The book inspires readers to explore everything from the historic Temple Square, the world headquarters of the Church of Jesus Christ of Latter-day Saints, to the stunning Wasatch and Oquirrh Mountains.
Salt Lake City is depicted as an all-season playground, with activities for every time of the year. There are skiing and snowboarding adventures to embark on, trails to hike, and biking paths to explore. The book even reveals a unique experience: scuba diving at 8,000 feet above sea level!
Pugh's love for the city extends to its food and entertainment scene. The guide is packed with recommendations for the best dining spots and après-ski locations at the nine resorts in the area. It also highlights the vibrant local music scene, encouraging readers to take the train to nearby Ogden for their famous concerts on 25th Street.
The Local's Perspective
The second edition of 100 Things to Do in Salt Lake City Before You Die benefits greatly from Pugh's personal touch. As a lifetime resident, his insights and itineraries are seasoned with local knowledge, giving readers an authentic perspective. His passion for the city shines through each page, making the book more than just a guide—it's a personal invitation to experience the best of Salt Lake City through the eyes of a local.
Conclusion
100 Things to Do in Salt Lake City Before You Die is an inspiring and comprehensive guide that breathes life into the city it represents. The book is a testament to Salt Lake City's vibrancy, showcasing diverse experiences that cater to every type of traveler.
Whether you're planning a quick weekend getaway, a long-term stay, or looking to rediscover your hometown, this guide offers fresh insights and adventures that will make your Salt Lake City experience truly memorable. From the stunning landscapes that frame the city to its rich history and culture, Jeremy Pugh's book will help you appreciate Salt Lake City in new and exciting ways.
In short, 100 Things to Do in Salt Lake City Before You Die isn't just a travel guide; it's a love letter to a city that's waiting to be discovered. Pack your bags, bring this book, and get ready to explore the heart of Utah.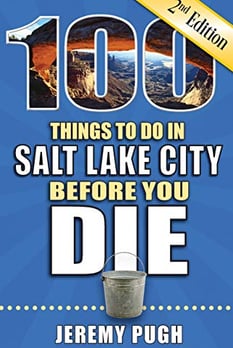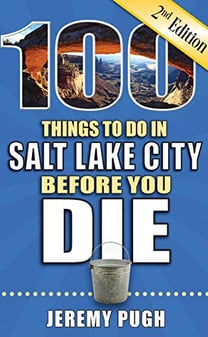 Transformation Through Time: Review of "Salt Lake City: 1890-1930 (Images of America)"
Stepping back into the past to understand the present is always a fascinating journey. For those interested in how modern-day Salt Lake City came into existence, "Salt Lake City: 1890-1930 (Images of America)" presents a compelling historical panorama. This visual narrative captures the critical transformation period of Salt Lake City between 1890 and 1930, during which the city evolved from a secluded, self-reliant Mormon community into a thriving, modern American city.
The Book's Concept
"Salt Lake City: 1890-1930 (Images of America)" visually explores the heart of Salt Lake City's transformative years. Instead of dense text, the book relies heavily on carefully curated historical photographs and informative captions. This format allows readers to engage with history on a more personal level, making it accessible and engaging.
The Transition of Salt Lake City
Salt Lake City's transformative journey is well documented in this collection. The narrative captures the city's struggle to maintain its identity as a Mormon utopian community amid external pressures and its eventual surrender to societal evolution.
The book masterfully captures the evolution of Salt Lake City as it embraced capitalism, diversified its economy from agriculture to burgeoning industries, and opened up to ethnic and cultural diversity. Each photograph tells a story, illustrating how the city was reshaped and modernized during these four pivotal decades.
One of the most captivating aspects of the book is its depiction of women's rights advancement. Images of women working in newly opened industries, participating in community building, and advocating for their rights serve as powerful reminders of the enduring spirit of progress.
A Historical Treasure Trove
"Salt Lake City: 1890-1930 (Images of America)" is a treasure trove for history buffs. It reveals how the city grew in response to the evolution of transportation, with the arrival of the railroad and the advent of automobiles reshaping urban landscapes and lifestyles. This gradual transformation is reflected in pictures of bustling streets, newly built infrastructures, and changing fashion trends.
In the same vein, the book offers a rare glimpse into the evolution of entertainment during this period. From quiet community gatherings to grand parades and public celebrations, each image tells a story of a society evolving in its understanding of leisure and public spectacle.
The Power of Visual Storytelling
"Salt Lake City: 1890-1930 (Images of America)" is a visual journey through time. The power of this book lies in its ability to transport readers to the Salt Lake City of yesteryears through vivid imagery and well-researched captions. It's a history book that doesn't just tell you what happened; it shows you.
Conclusion
"Salt Lake City: 1890-1930 (Images of America)" is a brilliant testament to the transformative power of time. It showcases how Salt Lake City, nestled at the foot of the Wasatch Range, transitioned from a distinct Mormon utopian society to a city embracing the sweeping changes of modern America.
For residents, this book offers a chance to understand the roots of their city to appreciate the history behind the structures they pass every day. For visitors or those new to the city, it provides an immersive, visual introduction to Salt Lake City's historical and cultural evolution.
In its entirety, this book is a celebration of change, resilience, and progress. It's an invitation to explore Salt Lake City beyond its current guise, uncover the history etched in its streets, and to appreciate the vibrant city it has become. For anyone curious about Salt Lake City's past, this book is a journey not to be missed.
Decoding the Enigmatic: Review of "Secret Salt Lake City: A Guide to the Weird, Wonderful, and Obscure"
If you're drawn towards the peculiar and the lesser-known, then "Secret Salt Lake City: A Guide to the Weird, Wonderful, and Obscure" is a captivating expedition into the lesser-known recesses of Utah's capital. This isn't your traditional guidebook. Instead, it dives into the heart of the city's oddities, unveiling stories and secrets that paint a vivid picture of Salt Lake City's unique character and rich history.
The Journey into the Unknown
"Secret Salt Lake City" is a delightful potpour of trivia, bizarre stories, and hidden facts, all revolving around Salt Lake City. The authors, lifetime residents Jeremy Pugh and Mary Brown Malouf, embark on an ambitious task of unearthing the city's well-kept secrets.
From the mysterious origin of Josepa, the Hawaiian ghost town in the desert, to an intriguing chunk of the Matterhorn enshrined at a local ski resort, the book takes readers on an exciting ride through some unexpected discoveries.
The Salt Lake City You Never Knew
Salt Lake City, the crossroads of the west, carries a unique origin story. It was founded by religious pioneers from the Church of Jesus Christ of Latter-Day Saints in 1847. The city's past is imbued with frontier grit, cultural richness, and curious relics. This unique amalgamation sets the perfect backdrop for the intriguing tales that the authors spin in this book.
Do you know why Utah is called the Beehive State? Or that there's an alphabet hidden in your computer invented right here in Salt Lake City? What about the significance of the religious symbols on the Salt Lake Temple? This book answers these questions and more, providing a fresh perspective on the city's known and obscure landmarks, legends, and myths.
Sherlock Holmes in Utah?
One of fascinating chapters details a Sherlock Holmes mystery that finds its roots in Utah. Intrigued? So were we! This tale is a testament to the fact that the city's unique blend of history, culture, and myth can weave stories that span across continents and time.
A Guidebook Unlike Any Other
"Secret Salt Lake City" is a departure from typical travel guidebooks. Instead of outlining the most popular tourist spots, it takes readers on a journey off the beaten path. The result? A captivating exploration of the city that even lifelong residents might find surprising.
Unveiling the Veil
One of the book's main strengths is its knack for presenting seemingly ordinary places or things in a new light, revealing their unusual or hidden aspects. It encourages readers to look beyond the surface, to delve deeper, and to appreciate the city's multifaceted personality. It uncovers Salt Lake City's hidden gems and encourages readers to find them and experience the thrill of discovery firsthand.
Conclusion
"Secret Salt Lake City: A Guide to the Weird, Wonderful, and Obscure" is more than just a book; it's an exciting expedition into the heart of Salt Lake City. It caters not only to visitors but also to locals looking to rediscover their city.
Whether you're a history buff, a trivia enthusiast, or simply someone who loves a good mystery, this book is bound to captivate. It serves as a reminder that there's always something new to discover, even in places we think we know well. So, prepare to look at Salt Lake City through a different lens, and get ready to uncover its secrets!
Venturing the Beaten Path: A Review of "Frommer's Utah (Complete Guide)"
In the realm of travel literature, Frommer's guidebooks have long been cherished for their in-depth coverage, practical advice, and unwavering commitment to helping travelers explore beyond the usual tourist traps. "Frommer's Utah (Complete Guide)" is no exception. It's not just about where to go in Utah; it's about immersing in the culture, experiencing the wonders, and understanding the history that makes Utah such a fascinating destination.
Off the Tourist Track
Utah's breathtaking landscape is ripe for exploration, whether you're drawn to the vast expanses of its national parks, the slopes of its ski resorts, or the vibrant life of its cities. The guide offers insider advice on how to best experience the natural wonders of Utah, from Bryce Canyon and Zion National Parks to the Wasatch Mountains.
Whether you're an adventurous camper or prefer the comfort of a resort, Frommer's helps you to explore Utah like a local, with recommendations that suit all budgets and styles.
Trails, Slopes, and Scenic Vistas
If you're eager to discover the best hiking trails, ski resorts, and scenic vistas, this guide doesn't disappoint. The coverage spans from Salt Lake City to the Wasatch Mountains, making it a versatile companion for any Utah adventure.
A Peek into the Past
Frommer's Utah goes beyond the usual tourist guide's scope by delving into the state's history. The guide provides insightful commentary on Utah's stunning national parks, monuments, and architectural highlights. It includes an in-depth discussion about Utah's first inhabitants, the Native Americans, and the unique history of the state's pioneers.
Frank, Passionate and Opinionated
One aspect that makes Frommer's guidebooks stand out is their unabashed frankness. The author is passionate about Utah and doesn't hold back in sharing the highs and lows of each location. The guide features exact prices listed for every establishment and activity, making it a practical tool for travelers.
User-Friendly Features
Frommer's Utah features user-friendly aspects such as star ratings, insider tips, best bets for kids, and pointers towards special moments. These tools allow readers to discover great finds, excellent values, and even overrated experiences, all contributing to a richer and more rewarding travel experience.
Conclusion
For more than 60 years, Frommer's guides have provided honest talk, frank advice, and affectionate insider's secrets to appreciating and affording vacations worldwide. "Frommer's Utah (Complete Guide)" lives up to this reputation, offering readers an authentic and enriching exploration of this breathtaking corner of the American Southwest.
Whether planning a trip to Utah or just learning more about this diverse state, "Frommer's Utah (Complete Guide)" is a valuable addition to your bookshelf. It is a guide that doesn't just show you where to go but instead invites you to understand and experience the spirit of Utah.